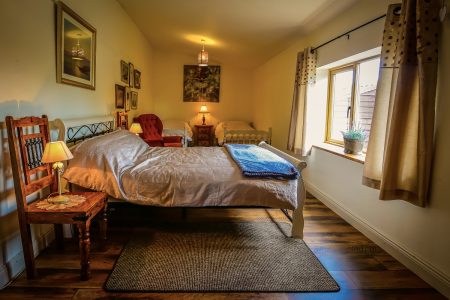 Peaceful setting surrounded by historical sites
Slane studio's accommodation at Crookedwood Farm is a converted hay barn that consists of a massive rehearsal/living space with two large bedrooms, a kitchen and a bathroom. Each bedroom can comfortably sleep four people and whether you are a couple or a group of up to eight people the studio is yours and only yours for the duration of your stay. The studio also comes with a built in pa system, a drum kit and guitar and bass amps. As the studio is sound proof, bands can rehearse late into the night.
"We absolutely loved staying here! It was perfect and had so many nice touches like fresh eggs from the farm and board games! Highly recommend it to anyone with a large group."
"Myself and a group of girlfriends chose Crookedwood for a getaway night to catch up. It was the perfect choice - a huge living space with great sound system and lovely fresh eggs for our breakfast in the morning. The rooms were really cosy and spacious and with the studio only a few miles from Navan we were easily able to head out for a meal and drinks too. We didn't do the tourist trail as we're all fairly local but the location is absolutely perfect to explore Meath with all its famous heritage sites. We would definitely recommend this place to anyone looking for a getaway with a quirky cosy feel to it."
"We absolutely loved our stay here. It is so charming and full of character. We got to meet all of the animals and it actually snowed while we were there, so the whole place was so magical! It's only a ten minute drive to lots of beautiful hotels and castles. Would definitely go back!"
"The place is really cool and it made me wish I still had a band. I'd say a group of musician friends would have the time of their lives there. ourselves and our two little boys enjoyed our very short stay. We had a wedding near, but our toddler could enjoy waking up beside the chicken and donkey and feeding them in the morning. Communication with the host was smooth and reliable. Would recommend it to anyo"
"Very nice and relaxing place to stay. Great location for touring and exploring the Boyne valley. Place was very clean and spacious. Would highly recommend."
Outside dining in the Heart of the Boyne Valley.